Don't even consider not having a virtual office in fabulous San Francisco!
Sir Richard Branson never does anything small and subdued. The wildly successful entrepreneur, humanitarian, adventurer, and billionaire founder of Virgin Group, with over 400 companies, is famous for producing creative and over-the-top introductions for new ventures. But Wednesday, April 6, 2011, he just might have outdone himself.
Rather than smashing a bottle of of champagne, Branson chose to christen Virgin America's new terminal at San Francisco International Airport by taking to the skies over San Francisco in a Virgin America Airbus 320 with the aircraft carrier WhiteKnightTwo and the private spacecraft SpaceShipTwo in convoy. What a sight that must have been for San Franciscans!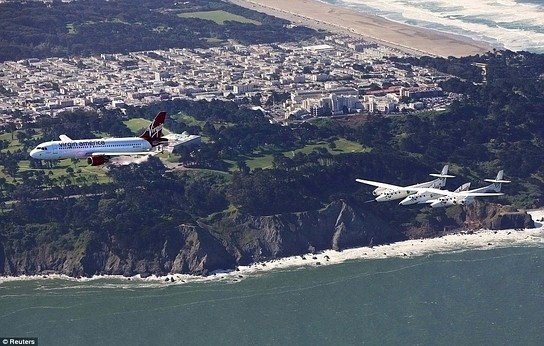 The New Terminal is Almost as Great as an Opus Virtual Office
The new terminal at SFO is a 640,000 sq. ft. facility designed with trademark Virgin America amenities. Fine dining areas, elegant lounges, and wifi with elevated computer tables, all featuring sustainable, green technology. The inaugural flight into this futuristic terminal also carried Apollo 11 astronaut Buzz Aldrin and California Lieutenant Governor Gavin Newsom. Also there were supporters of Virgin Galactic, the company which indeed will be carrying tourists into space.
Even without this exciting new facility, San Francisco is one of the most fascinating and most densely populated cities in the United States, a perfect location to open a virtual office.
A popular tourist destination, it's known for the iconic Golden Gate Bridge, cable cars, and unique neighborhoods, including a Chinatown. It is also a major banking and financial center, boasting 30 international financial institutions and is home to seven Fortune 500 companies.  Higher education, the arts, major sports teams, and technology abound. Silicon Valley is nearby; and Twitter, Craigslist.org, and the Wikimedia Foundation have their head offices here.
So have I whetted your appetite for this great city?  Well, you don't have to pack up your home and your physical office to have a powerful presence here! An Opus Virtual Office in San Francisco is yours for remarkably low cost!  Your virtual office package includes an impressive corporate address right in the city, telephone and fax service, voicemail converting to email, shipping and mailing, and live professional receptionists answering client calls personally.
San Francisco Loves Opus VO
Soar over your competition by opening a virtual office in the influential and fascinating City by the Bay. Head on over to www.OpusVirtualOffices.com to learn more about the advantages of a virtual office.