"What Happens In Vegas…"
We all know the rest of that highly successful tag-line. Images of glamorous secrets immediately pop into our heads.
But the city of Las Vegas is certainly no secret. The Entertainment Capital of the World, it's an internationally renowned major resort city for gambling, shopping, and fine dining. The 2010 population is estimated to be 2.3 million, and as seen from space, Las Vegas is the brightest city in the world! A terrific location for a virtual office.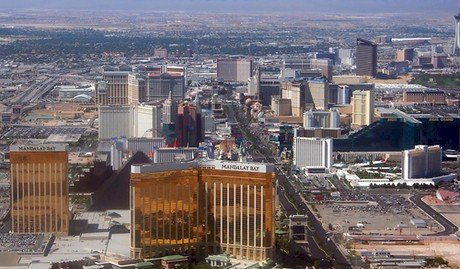 Tourism is its main industry, and it's interesting to note that conventions, shopping, world-class restaurants, and natural beauty have become as much of a draw as the casinos and shows. Additionally, Las Vegas has been expanding its research, banking, and manufacturing industries, as well as being a leader in technology and telecommunications.
Wherever your home office may be, maintaining a virtual office in Las Vegas enhances your national corporate prestige immediately. In almost no time, an impressive corporate address in Las Vegas can be yours by opening a virtual office branch. All without the hassle or cost of renting physical space,  paying for utilities, hiring employees, or purchasing additional equipment.
A virtual office offers an impressive corporate address, company phone and fax number, shipping and mailing, voicemail, premium call forwarding, and other valuable services. And with professional receptionists answering phone calls live, you won't be 'gambling' with client contacts.
Let your clients in on the 'secret' of your successful business by establishing a virtual office in Las Vegas. Head over to our website at www.opusvirtualoffices.com to see what the excitement is all about.