An actual story of Joe the Plumber, lots of water, yours truly, and Opus Virtual Office to the rescue.
One morning a few months ago, I went into my kitchen to put up a pot of coffee and stepped into a deep pool of water cascading from under the sink. A quick inspection proved me clueless, and new to the neighborhood, sent me running to my neighbor for a plumber referral. Yes, this is about the benefits of a virtual office, bear with me.
Joe the Plumber arrived quickly and we spent the first few minutes joking that he always spends the first few minutes of new house calls joking that he's not 'The' Joe the Plumber of election-time fame. Then he set to work. Or so I thought. But it seemed that 'this' Joe the Plumber was a very popular guy. This is due to his great reputation and fair fees.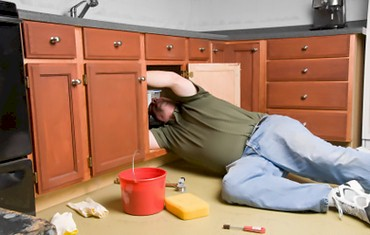 The front of his body buried under my sink. He spent as much time on his constantly ringing cell phone taking emergency calls. I think all plumbing calls are emergency calls, as he did replacing hoses and removing foreign objects from my garbage disposal. A dozen times, he was interrupted by a call and a dozen times he apologized.
I wasn't going to let this fine fellow out of my kitchen without a testimonial on how a virtual office might benefit an independent contractor. I explained how he could choose an Opus Virtual Office at a quality business address near his home in Ft. Lauderdale. This included business phone and fax number, shipping services, voicemail, call forwarding, and professional live receptionists who would courteously answer all his calls promptly, routing the information to him on a customized schedule. It was the live receptionists that sold him.
Opus VO Will Help Your Business with a Virtual Office in Fort Lauderdale
A few weeks ago I saw Joe again, getting out of his truck in my neighborhood. He had indeed invested in an Opus Virtual Office in Fort Lauderdale and he was one happy plumber!
Get your small business out of hot water by visiting us at www.opusvirtualoffices.com