With the 2nd most expensive office space in the country, a Washington, D.C. office might seem far out of reach for most small businesses.   But with a virtual office, your business is sitting pretty in the capital of the U.S.
What can be said about this most historic of metropolitan areas?  Well, we'll stay out of politics and stick with virtual offices, OK?
Without question, a Washington, D.C. Virtual Office with a downtown address communicates a powerful statement about your company's clout.  The centers of all three branches of the U.S. federal government are located in the District and it is home to many of the nation's most important monuments and museums.  It's the the head of the International Monetary Fund, the World Bank, and hosts 174 foreign embassies.  The John F. Kennedy Center for the Performing Arts is a highly respected cultural icon located here, and five major professional sports are represented.
And, as surprising as it sounds, for $99 a month, an Opus Virtual Office  puts your company here too!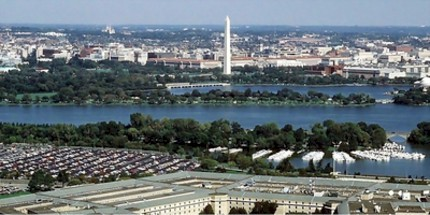 Wherever your company's home base is, adding a virtual office branch in Washington, D.C. confers immediate credibility and visibility that is hard to match.  Your clients know you mean serious business when your company displays a corporate address and local telephone and fax number in the District's busy downtown.  Also included in the Opus Virtual Office package is state-of-the-art digital communications in the form of fax forwarded to email in pdf format, voicemail converting to email as a WAV file, premium paging and call forwarding, and professional live receptionists answering and directing your clients' calls personally.
One of Washington, D.C.'s famed drawbacks is heavy commuter traffic during the business week.  That will never be your problem with a virtual office.  Details at opusvirtualoffices.com