Want to expand your business lightning fast, in any of hundreds of highly desirable locations across the country, without renting a traditional office, paying utility bills, purchasing additional equipment, or dealing with the hassles of hiring and retaining employees? Oh, and at an extremely low cost too. Sound impossible? Not impossible with a virtual office.
We have an app for that. We call it the ultimate office solution. Welcome to Opus Virtual Offices.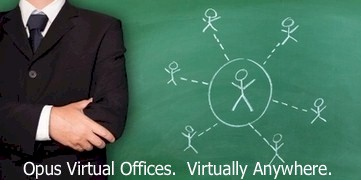 Opening a virtual office is the perfect alternative to a physical office when freedom of choice, flexibility, and cost effectiveness are high priorities. Indeed, virtual offices have been identified as one the biggest trends in small business management for 2011.
There are solid reasons for this. The rise of high speed internet and digital communications services has revolutionized the way we do business today. Physical space is no longer necessary: it can limit your boundaries and be prohibitively expensive. Your business is your ideas and services; not concrete and brick. Virtually anywhere your customers are, your virtual office is there for them, offering instant visibility and a strong market presence. Go from local to universal in the time it takes to contact Opus VO and letting us go to work for you.
The Opus VO ultimate office solution lets you choose a prestigious address in hundreds of locations across the country. Your company receives a local telephone and fax number, voicemail boxes that convert to email audio files, premium paging and call forwarding, and live, highly trained receptionists answering the phones, offering your customers a consistent, professional and very personal experience.
Head over to Opus Virtual Offices and see what all the buzz is about.