Don't take risks with your business -keep your business costs down, open a virtual office instead!
In case you don't remember or weren't around, my picture of the day below, is of a very young, almost unknown Tom Cruise, in the iconic lip-synching scene from his breakthrough performance in Risky Business.
Quite the character, Tom has, of course, gone on to great success since then. But today I'd like to write about how virtual offices not only reduce the 'risk' of doing business but provide an ideal opportunity for maximizing your business's potential quickly and for very low cost.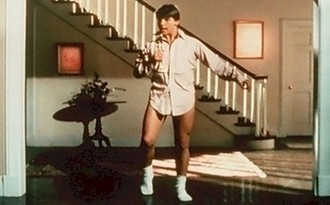 A virtual office is the perfect solution to start or grow a business by providing powerful benefits at very low cost. There are none of the risks inherent in operating physical offices requiring expensive long-term commitments in rent and tie you down to specific locations. And with a virtual office there's no investment in equipment, supplies, utilities, and hiring, training, and maintaining a staff.
The generous set of services a virtual office includes, together with flexibility and low cost,
gives you a quick and effective way to stay ahead of the competition. Opus VO offers a prestigious corporate address in hundreds of cities across the country. Local telephone and fax, shipping and mailing, voicemail converting to email, and the services of professional live receptionists handling customer calls.
Your business is too important to take risks with. To open a great virtual office that costs only $99 a month, visit www.opusvirtualoffices.com . It just may be worth singing about. With pants on please.