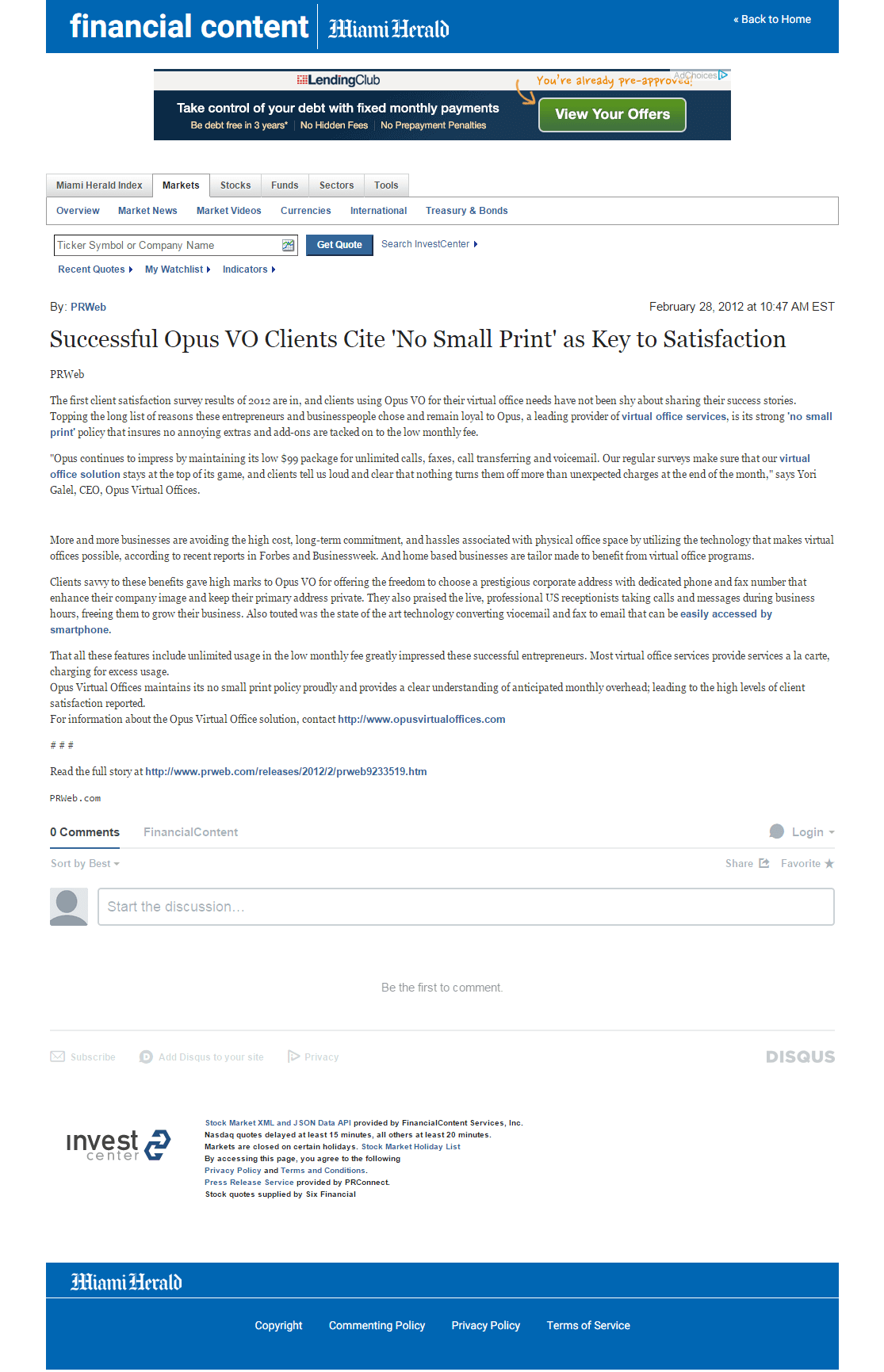 The first client satisfaction survey results of 2012 are in, and clients using Opus Virtual Offices for their virtual office needs have not been shy about sharing their success stories. Topping the long list of reasons these entrepreneurs and businesspeople chose and remain loyal to Opus VO, a leading provider of virtual office services, is its 'no small print' policy. This insures no annoying extras and add-ons are tacked on to the low monthly fee.
"Opus continues to impress by maintaining its low $99 package for unlimited calls, faxes, call transferring and voicemail. Our regular surveys make sure that our virtual office solution stays at the top of its game. Clients tell us loud and clear that nothing turns them off more than unexpected charges at the end of the month," says Yori Galel, CEO, Opus Virtual Offices.
More and more businesses are avoiding the high costs and hassles associated with physical office space. They utilize technology that makes virtual offices possible, according to recent reports in Forbes and Businessweek. Clients savvy to these benefits gave high marks to Opus VO for offering the freedom to choose a prestigious corporate address with dedicated phone and fax number. This enhances their company image and keep their primary address private.
Clients also praised the live, professional US receptionists taking calls and messages during business hours. This frees them to grow their business. Also touted was the state of the art technology converting voicemail and fax to email. This can be accessible by smartphone. All these features include unlimited usage in the low monthly fee greatly impressed these entrepreneurs. Most virtual office services provide services a la carte, charging for excess usage. Opus Virtual Offices maintains its no small print policy proudly and provides a clear understanding of anticipated monthly overhead; leading to the high levels of client satisfaction reported.
Posted on February 28, 2012 by Admin