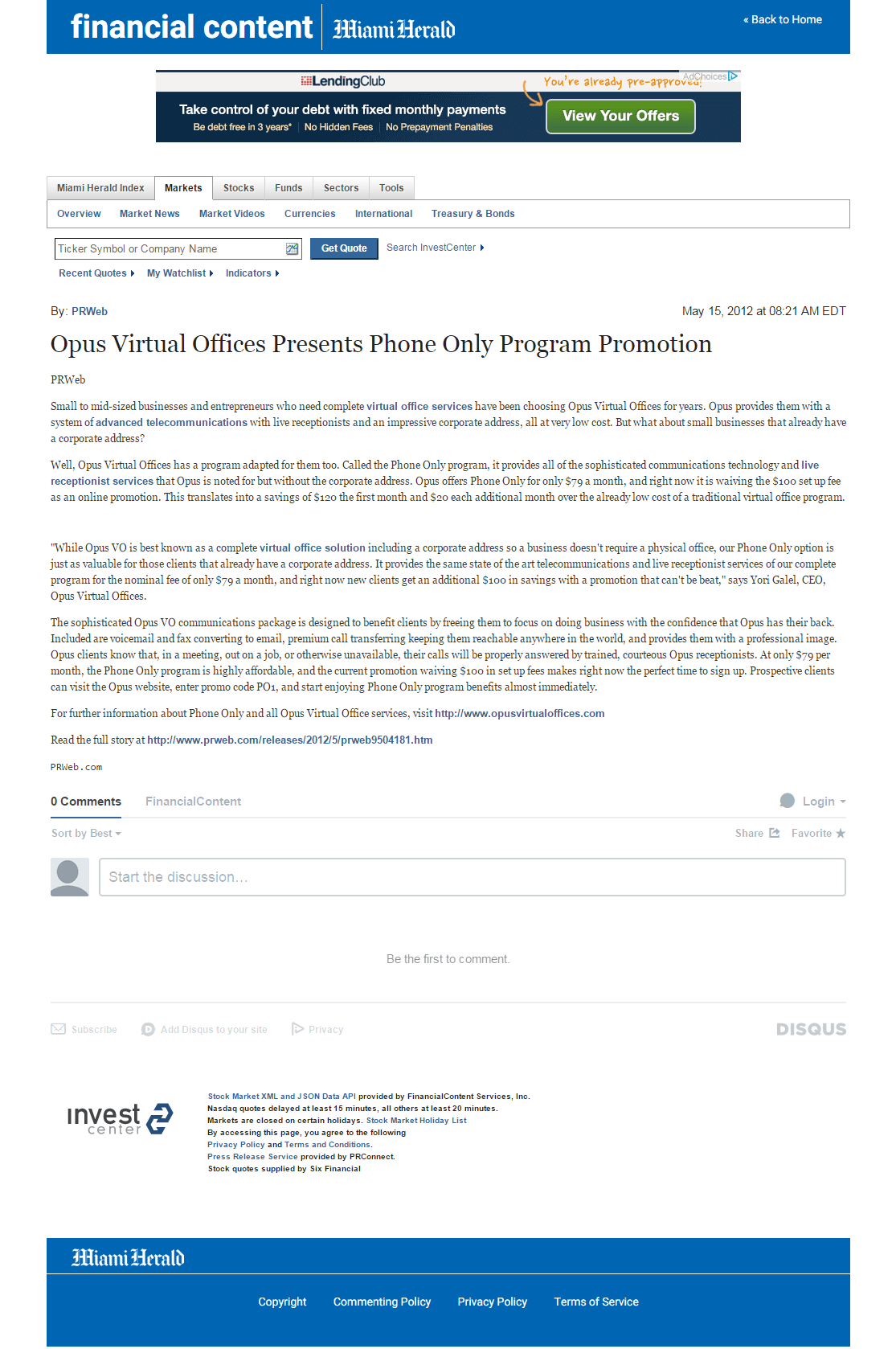 Small to mid-sized businesses and entrepreneurs who need complete virtual office services have been choosing Opus Virtual Offices for years. Opus provides them with a system of advanced telecommunications with live receptionists and an impressive corporate address. All at very low cost. But what about small businesses that already have a corporate address? Well, Opus Virtual Offices has a program adapted for them too. Called the Phone Only program, it provides all of the sophisticated communications technology and live receptionist services that Opus VO provides for. But, without the corporate address. Opus offers Phone Only for only $79 a month, and right now it is waiving the $100 set up fee as an online promotion. This translates into a savings of $120 the first month and $20 each additional month . This is over the already low cost of a traditional virtual office program.
"While Opus VO is best known as a complete virtual office solution including a corporate address so a business doesn't require a physical office, our Phone Only option is just as valuable for those clients that already have a corporate address. It provides the same state of the art telecommunications and live receptionist services of our complete program for the nominal fee of only $79 a month. Right now new clients get an additional $100 in savings with a promotion that can't be beat," says Yori Galel, CEO, Opus Virtual Offices.
Try Our Phones Only Communications Plan
The sophisticated Opus VO communications package is designed to benefit clients by freeing them to focus on doing business with the confidence that Opus VO has their back. Included are voicemail and fax converting to email, premium call transferring keeping them reachable anywhere in the world. This provides them with a professional image. Opus VO clients know that in a meeting or out on a job, their calls will be properly answered by trained, courteous Opus VO receptionists. At only $79 per month, the Phone Only program is highly affordable. The current promotion waiving $100 in set up fees makes right now the perfect time to sign up. Prospective clients can visit the Opus VO website. Then enter promo code PO1, and start enjoying Phone Only program benefits almost immediately.
Posted on May 15, 2012 by Admin