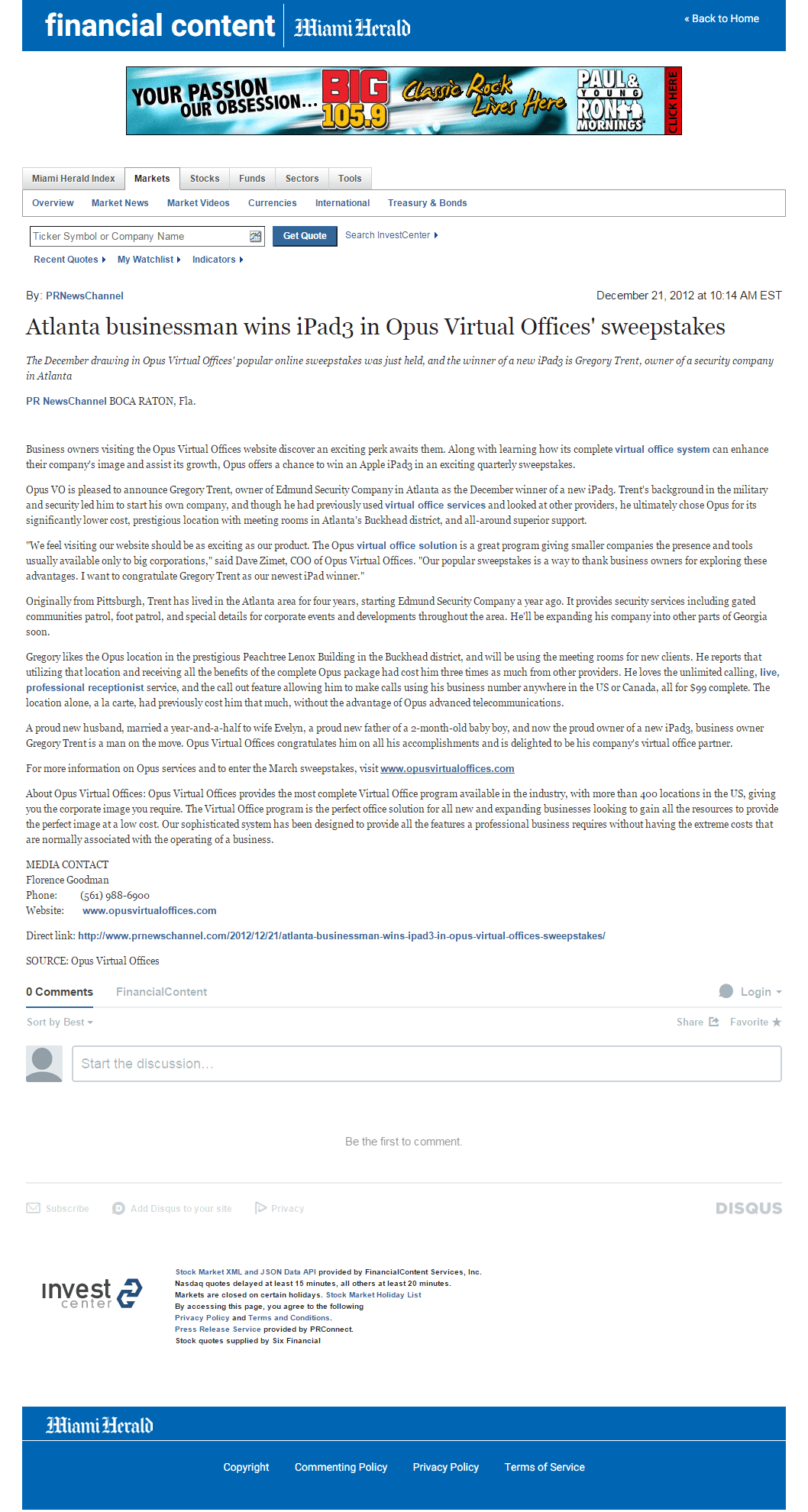 The December drawing in Opus Virtual Offices' popular online sweepstakes was just held. The winner of a new iPad3 is Gregory Trent, owner of a security company in Atlanta.
Along with learning how its complete virtual office system can enhance their company's image and assist its growth, Opus VO offers a chance to win an Apple iPad3 in an exciting quarterly sweepstakes. Opus VO is happy to announce Gregory Trent, owner of Edmund Security Company in Atlanta as the December winner of a new iPad3. Trent's background in the military and security led him to start his own company. He had previously used virtual office services and looked at other providers. He ultimately chose Opus VO for its significantly lower cost, prestigious location with meeting rooms in Atlanta's Buckhead district, and all-around superior support.
"We feel visiting our website should be as exciting as our product. The Opus VO solution is a great program giving smaller companies the presence and tools available only to big corporations," said Dave Zimet, COO of Opus Virtual Offices. "Our popular sweepstakes is a way to thank business owners for exploring these advantages. I want to congratulate Gregory Trent as our newest iPad winner."
A Virtual Office in Atlanta Helped Him Grow His Business
Originally from Pittsburgh, Trent has lived in the Atlanta area for four years, starting Edmund Security Company a year ago. It provides security services including gated communities patrol, foot patrol, and special details for corporate events. He'll be expanding his company into other parts of Georgia soon. Gregory likes the Opus location in the prestigious Peachtree Lenox Building in the Buckhead district. He'll be using the meeting rooms at his virtual office in Atlanta for new clients. He reports that utilizing that location and receiving all the benefits of the complete Opus VO package had cost him three times as much from other providers. He loves the unlimited calling and live professional receptionist service. The call out feature allowing him to make calls using his business number anywhere in the US is a bonus too. All for $99 complete.
The location alone, a la carte, had previously cost him that much, without the advantage of Opus advanced telecommunications. A proud new husband, married a year-and-a-half to wife Evelyn. A proud new father of a 2-month-old baby boy, and now the proud owner of a new iPad3. Business owner Gregory Trent is a man on the move. Opus Virtual Offices congratulates him on all his accomplishments and is delighted to be his company's virtual office partner.
Posted on December 21, 2012 by Admin