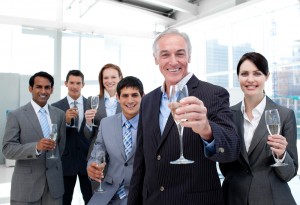 With the holiday season rapidly approaching in some cases starting with Halloween, comes the festive events and the office party. As silly as it seems, some people really need a little reminder about proper etiquette when they mix business with pleasure. The key word here is "office party" remember it is still an office function, there will be invited guests that are not employees, they are clients and business associates sharing the holidays and festivities at managements request and invitation. So it is most important that the employees remember they are representatives of the company and their actions and behavior should dictate this.
An office party is intended to show appreciation to its employees or recognition for accomplishments.  An office party is meant to celebrate an event and show gratitude not to see who the craziest employee is.  Here are some simple things to remember when attending an office party.
The office party invitation
Read the invitation for clues. An announcement or invitation will be sent to every invited employee and guest, this will come via email, hand delivered or in some cases by regular mail. The invitation will tell a lot about the party, including, location, date and time. The invitation should also note if you can bring a guest. If you are not sure or the invitation does not address a guest accompaniment, ask an office party planner, don't assume you could or could not bring a guest.
Dressing for an office party
The location and time of the office party should be the indicator of how to dress. We always want to look our best and try to impress those around us, but, you also want to maintain the professional image you portray and the company portrays.
Respect the Privacy of Your Colleagues at an office party:
We are all aware that most every phone is equipped with at least a camera, if not a video camera. There is opportunity to get pictures of your coworkers and managers, the pictures taken should be in good taste and show the best side of people not the "look what I caught them doing" side of people. If you do take office party photos and want to share them on a social network or the company website remember, make sure the pictures are appropriate and maintain the image and respect of the company and its employees.   You should always respect the privacy of your fellow employees and ask before you even take pictures of them or post them. Some companies have banned employees from bringing their phones to the holiday party.
The office party itself
We still need to remember we are at an office party, and everything should be done in moderation, sure have a drink or two, dance, sing and tell a joke, let your hair down a bit but remember, especially if you are a manager, Management and upper Management personal should always be aware of the fact; they are leaders and should set the example. There is no need to overdo it.   "Keep it PG-13,"
Attending the office party
Attendance should be mandatory, "Your employer is putting together a celebration for recognizing employees and accomplishments, a show of gratitude on your part as an employee should be extended as well.
Office party thank you
The holidays are all about being thankful. "Take the time to write a thank you note, not only to employers but whoever organized the celebration, also take the time to thank fellow employees who have had an impact on your career, a trainer, coach, mentor, a manager anyone who has been a positive influence to you including the business owner or upper management.
We spend most of our day at work with fellow employees, they are almost our second family, Share some of the holiday season with them. Enjoy and take advantage of the holidays, the festivities, and the company office party, celebrate your accomplishments and the accomplishments of your fellow employees.