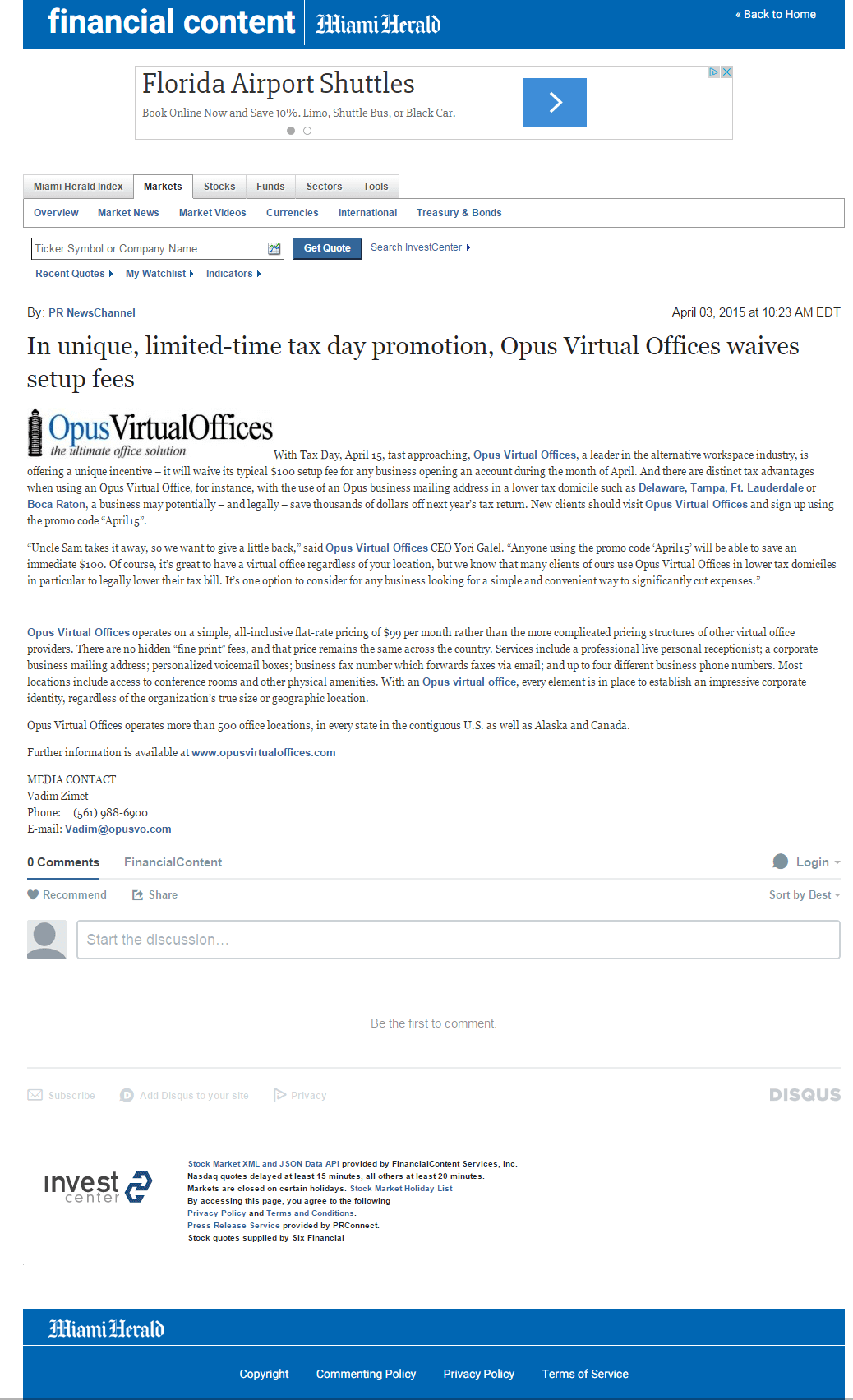 With Tax Day, April 15, fast approaching, Opus Virtual Offices, a leader in the alternative workspace industry, is offering a unique incentive – it will waive its typical $100 setup fee for any business opening an account during the month of April. And there are distinct tax advantages when using an Opus Virtual Office, for instance, with the use of an Opus business mailing address in a lower tax domicile such as Delaware, Tampa, Ft. Lauderdale or Boca Raton, a business may potentially – and legally – save thousands of dollars off next year's tax return.
Make Tax Day Easier with Opus VO
New clients should visit Opus Virtual Offices and sign up using the promo code "April15". "Uncle Sam takes it away, so we want to give a little back," said Opus Virtual Offices CEO Yori Galel. "Anyone using the promo code 'April15' will be able to save an immediate $100. Of course, it's great to have a virtual office regardless of your location, but we know that many clients of ours use Opus Virtual Offices in lower tax domiciles in particular to legally lower their tax bill. It's one option to consider for any business looking for a simple and convenient way to significantly cut expenses."
Opus Virtual Offices operates on a simple, all-inclusive flat-rate pricing of $99 per month rather than the more complicated pricing structures of other virtual office providers. There are no hidden "fine print" fees, and that price remains the same across the country. Services include a professional live personal receptionist; a corporate business mailing address; personalized voicemail boxes; business fax number which forwards faxes via email; and up to four different business phone numbers. Most locations include access to conference rooms and other physical amenities. With an Opus virtual office, every element is in place to establish an impressive corporate identity. This is regardless of the organization's true size or geographic location. Opus Virtual Offices operates more than 500 office locations, in every state in the contiguous U.S. as well as Alaska and Canada.
Posted on April 3, 2015 by Admin