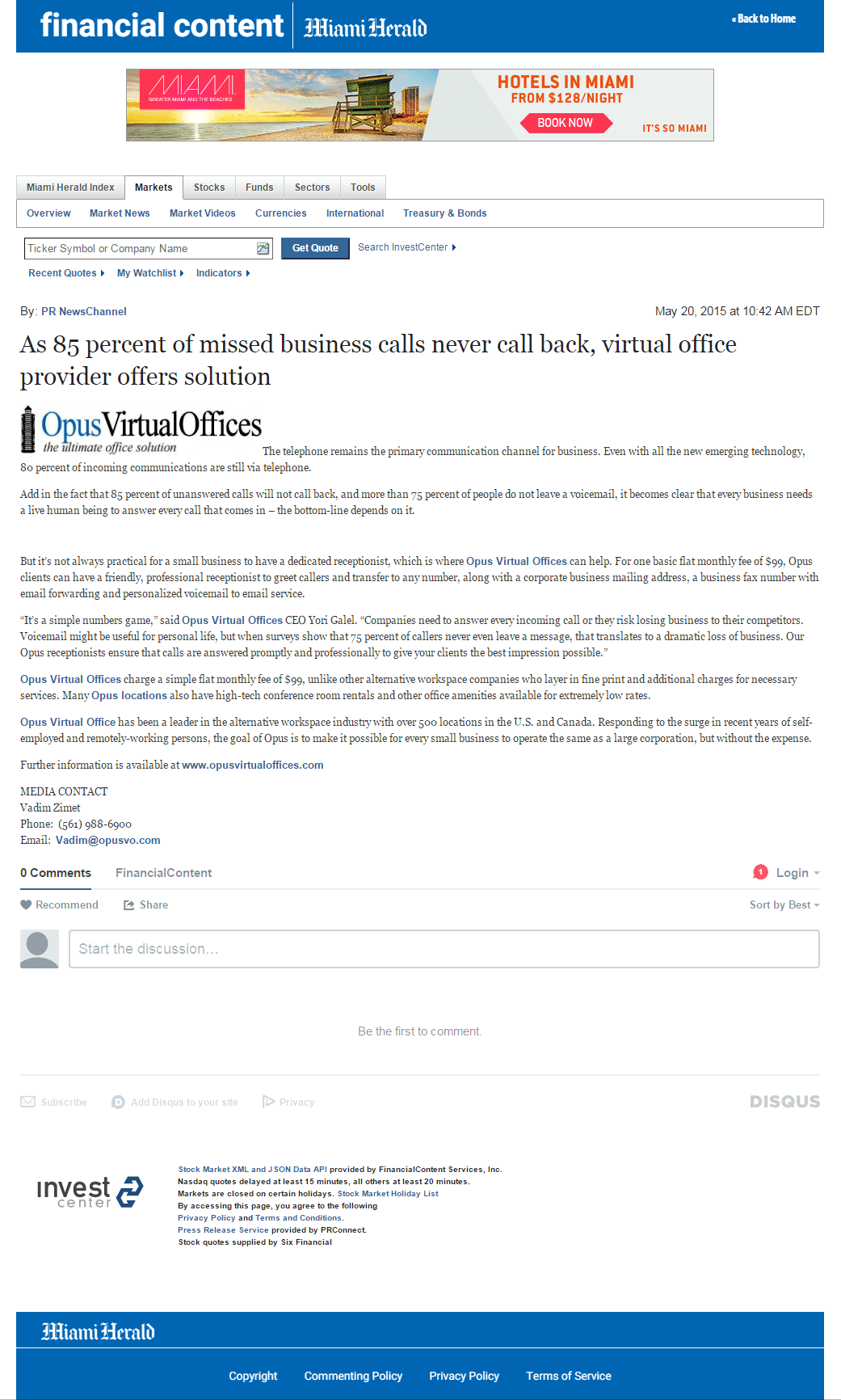 The telephone remains the primary communication channel for business. Even with all the new emerging technology, 80 percent of incoming communications are still via telephone. Add in the fact that 85 percent of unanswered calls will not call back, and more than 75 percent of people do not leave a voicemail. It becomes clear that every business needs a live human being to answer every call that comes in. The bottom-line depends on it. It's not always practical for a small business to have a dedicated receptionist. This is where Opus Virtual Offices can help.
For one basic flat monthly fee of $99, Opus VO clients can have a friendly, professional receptionist to greet callers and transfer to any number, along with a corporate business mailing address, a business fax number with email forwarding and personalized voicemail to email service. "It's a simple numbers game," said Opus Virtual Offices CEO Yori Galel. "Companies need to answer all business calls or they risk losing business to their competitors. Voicemail might be useful for personal life. But, surveys show that 75 percent of callers never even leave a message. That translates to a dramatic loss of business. Our Opus receptionists ensure that calls are answered promptly and professionally to give your clients the best impression possible."
Opus Virtual Offices Can Help Manage Business Calls
Opus Virtual Offices charge a simple flat monthly fee of $99, unlike other alternative workspace companies who layer in fine print and additional charges for necessary services. Many Opus VO locations also have high-tech conference room rentals and other office amenities available for extremely low rates. Opus Virtual Offices has been a leader in the alternative workspace industry with over 600 locations in the U.S. and Canada. Responding to the surge in recent years of self-employed and remotely-working persons, the goal of Opus VO is to make it possible for every small business to operate the same as a large corporation. But, without the expense.
Posted on May 23, 2015 by Admin