We live in a fast-paced, technologically driven world that has changed the face of modern business. Thriving business owners understand that transactions can happen anywhere, with many occurring across the globe. Many successful companies have employees that work in a range of spaces, from hot desks to home offices. While employees thrive with the concept of flexibility in their work schedule and environment, it can present a challenge for small businesses. If you're a small business that doesn't have access to a full-time physical office or doesn't require a full-time physical space to be successful, a virtual office may be the solution you are looking for.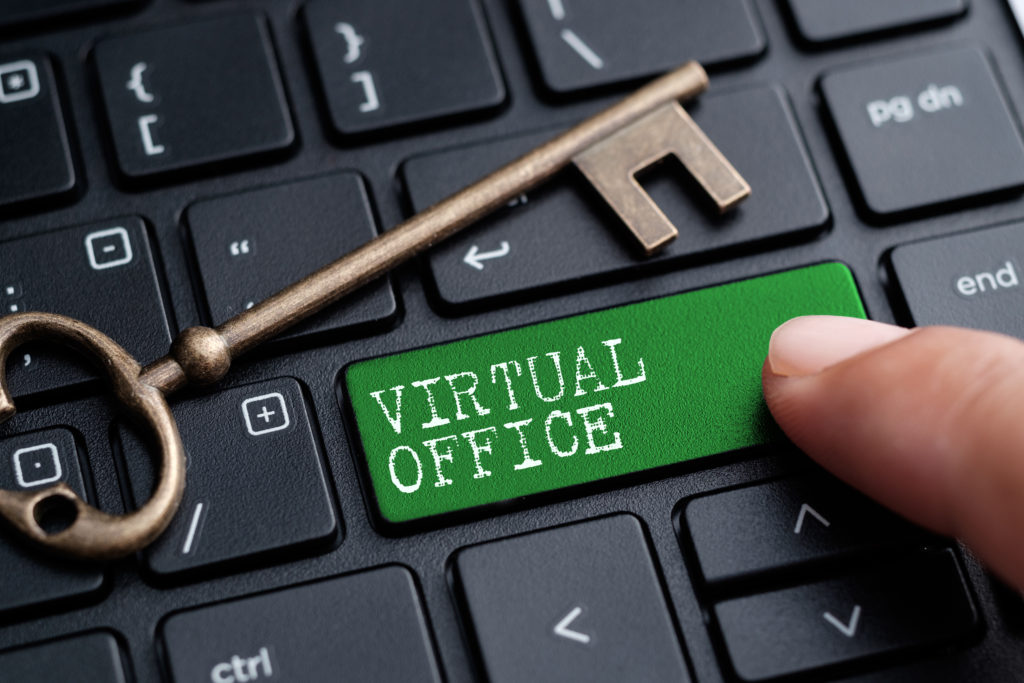 In 2022 it's no secret that successful multi-million dollar businesses are sustainable without the expense of physical office space. But how many entrepreneurs want to be answering client calls, booking meeting rooms, or giving out their home addresses for business purposes? With the unique services of a virtual office, every entrepreneur frees up their schedule so they can focus on the one thing that truly matters – increasing their customer base and their profits. If this sounds like you, then you may benefit from a virtual office.
Virtual offices emerged on the business scene in the mid-1990s as a popular solution for companies that needed productive, professional environments but not on a day-to-day basis. A virtual office is a business location with features ideal for small businesses, and startups without the added expense of traditional office space. Most offer a business address, call forwarding, live reception, meeting rooms on demand, and mail forwarding.
A Virtual Office Defined
Virtual offices give small business owners and entrepreneurs the ability to build out a business model with the support of in-office staff without the costly overhead and monthly expenses. They are defined by the support services they offer business owners, such as:
A physical mailing address, that enables you to keep your home address and personal information private.
Inbound and outbound call transfer, where you have a personal secretary answering your business line.
Front desk reception, so someone is there to greet clients for in-person meetings.
Access to full-service meeting rooms and other amenities, that are standard for a physical office.
With a virtual office every small business, start-up, or solopreneur has the ability to create a presence in new markets, expanding their client reach while maintaining a professional appearance. For larger, already established businesses, a virtual office can help them expand into new unchartered markets and tap into a client base that would otherwise be out of reach, without a large financial commitment that would accompany a lease term for a physical space.
The Inner Workings of a Virtual Office
Virtual Office providers come in many shapes and sizes. There are local-only options, nationwide options, and a few providers that offer services on a global scale. You have the ability to choose the one that meets your business needs. The best part is that while your virtual office may be located halfway across the globe, you can be running your business out of your home. In addition to the standard model, some providers offer hot desks and co-working spaces for those times when you find your productivity lagging due to the distractions of working from home.
How a virtual office supports your business
Just as there are many different virtual office providers, there are many different service options available. The most common services are:
A professional business address: No matter the size of your business, once you have incorporated with the state you need to make your business address public record. Few people want their home addresses to be available to the public. For many, their home address is something that they keep private, giving them a feeling of security, that's why a virtual office is the best option for them.
Mail delivery: Another benefit of using a virtual office address for your business address is having all post and packages delivered to your virtual office and not your home. You get to impress your clients with a business address in the hottest markets and maintain your personal privacy while having someone on hand to accept all parcels and post in person.
Live reception and call handling: Every time the phone rings, there is a receptionist answering the call. You no longer need to hand out your personal number or be tied to your cell phone. With a live receptionist, you'll never miss another call. Most virtual office providers have a live receptionist that will answer your business line in a professional and friendly manner. Many providers offer call transfer or will take a message if you are unavailable. Receptionists will not only take inbound messages but will arrange callbacks, so you can travel and attend client meetings without missing a beat!
Client meeting rooms: When you onboard your business to a virtual office you are expanding your potential client reach to every virtual office within their network. You are no longer restricted to doing business in one location as you would be with a physical office. Meeting rooms are typically stocked with the latest digital technology for your next meeting, giving you the ability to close contracts and discuss business in person with your staff, on an as-needed basis.
Virtual office benefits
While there are many benefits of a virtual office, the one that is paramount to the industry is its ability to offer clients a professional business environment without the hefty overhead costs. As an entrepreneur, you no longer need to pay utilities for an office space you use every other week. This provides businesses with opportunities they would never have if they had to lease physical office space.
For many small business owners, such services free up their time so they can focus on growing their business, while someone else tends to the administrative work. Larger companies can use virtual office services to expand into new markets and test the waters before investing in a physical space. They may find that it may not make financial sense to rent a physical space even once they're established since a virtual model fits their needs perfectly.
Over the last few years, with the arrival of Covid 19, virtual offices have been pushed to the forefront of the business world. With the pandemic coming to an end, the benefits of a virtual office are proven to still be relevant. Many businesses are turning to virtual offices as a way to build their brand while cutting overhead costs and maintaining a proper work-life balance for their employees. In fact, the post-Covid economy necessitates a hybrid office concept, driving demand for virtual offices forward with no sign of slowing down. The reason is clear, flexible workspace/virtual office setups allow companies to reap the benefits of a physical office while keeping employee satisfaction at an all-time high and costs low.
Opus Virtual Offices has over 650 virtual office locations nationwide. Opus VO offers different virtual service packages that include inbound outbound call transfer, live reception, digital mail sorting, meeting rooms, and other services to help you run a successful business without the costly overhead.
Whether you're in need of a registered mailing address for your corporation or a meeting room for your remote team, at Opus VO we'll set you up in the right market with the business support you need to succeed. Give us a call and let us help you create the right service package for your business needs today!