In 2022, more businesses are moving to virtual offices than ever before. The appeal is easy to see; a full suite of office services, including a live receptionist, inbound/outbound call transfer, a business address, mail sorting, and meeting rooms, all at your fingertips. This is the type of flexibility that entrepreneurs are seeking in this mobile, work-from-home world. Using a virtual office is also a fantastic way to expand your reach, whether you are an attorney looking to branch out or a freelancer who wants to establish themselves as an up-and-running business in new locations.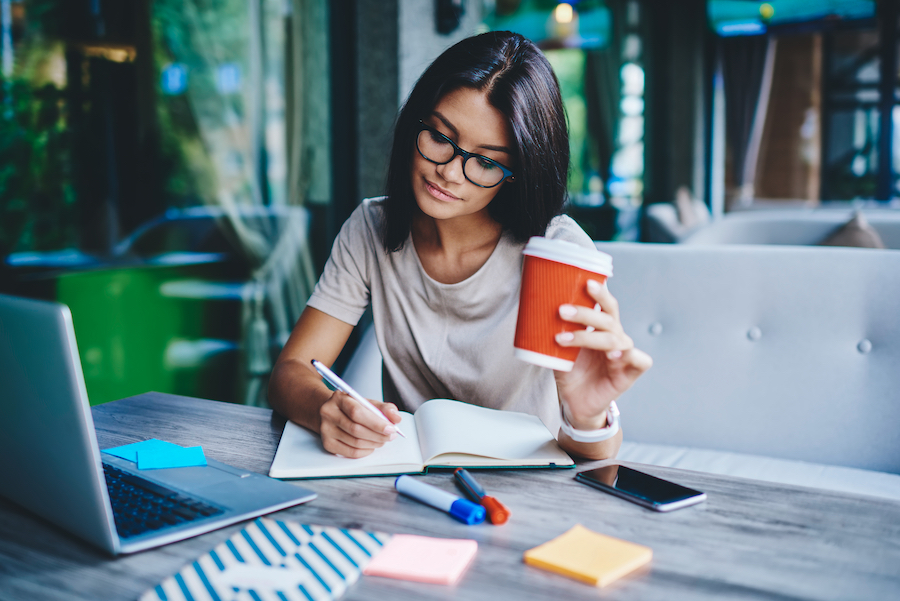 Technology has changed the way people conduct business. The virtual office concept began in the early 2000s when technology gained a solid foothold in the business world, allowing for a shift from the typical work week structure. From 2005 to 2012, there was a 79.9 percent increase in remote work. By 2016 over 3.5 million people (about twice the population of Nebraska) in the U.S. alone were working remotely. This number is only growing as we deal with the economic impact of the post-COVID 19 pandemic and companies are cutting costs, shying away from the traditional brick-and-mortar option.
Why Are Businesses Choosing Virtual Offices?
The choice is clear. Virtual offices are a less costly option when compared to brick & mortar office space. They offer various services, and working from home is better than spending your day at a local café, where they offer free Wi-Fi. In 2022 you will find more than just start-ups and cash-poor entrepreneurs turning to virtual offices. Many business sectors can't justify the cost of a physical office, especially when there is no added benefit to renting one. Another factor that pushed virtual offices to the forefront was the COVID 19 pandemic. Many businesses found that they can effectively cut costs and get the same productivity from their employees who are working remotely. They no longer needed a physical space, just a physical address and reception service, the exact services a virtual office offers.
Who's Going Virtual?
The businesses that are choosing virtual offices are many. Here are the top 10 sectors that are choosing a virtual office. Find out if your sector is one of them!
Freelancers: When you get bitten by the entrepreneurial bug and want to start your career as a freelancer, having a physical address for your business adds credibility to your brand. If this is you, then a virtual office is exactly what you need. You can work remotely at any location yet still have a physical address for your mail and the availability of meeting rooms for when you meet with clients. This choice will give you the momentum you need to attract a clientele that will grow your business.
Attorneys: You just graduated law school, and you're ready to hang up your shingle, but without clients, how will you afford an office? And without an office, how can prospective clients find you? A virtual office is the best choice for you. Alternatively, you are an established attorney who spends his day in the courthouse, so you can't justify the expense of a physical office. Yet, you need a meeting room to sign retainer agreements and other legal documents, or you're looking to expand the reach of your law firm and want a physical address in a specific neighborhood. A virtual office is the solution, allowing you to maintain a professional, established business presence so you can focus on landing clients. 
Consultants: You consider yourself a digital nomad, "have Wi-Fi will travel" is your motto. You also have high-end clients expecting professionalism, which is why they hired your company. You need a physical address, a meeting room for presentations, and a receptionist to filter calls as they come in. It's not good business sense to rent a physical office space that will be used once a week. Rather invest in a virtual office where all your office needs are met at a fraction of the cost, with all the benefits.
Accountants: It's 2022, and accountants are no longer stuck in the office, especially during tax season. With technology, the accounting profession has been at the forefront of remote work. A virtual office is an excellent choice for accountants who don't want to be bothered fielding calls from clients or don't want to use their home office for business meetings.
Sales Reps: Sales reps no longer spend most of their time driving from place to place to pitch prospects. However, a meeting room for presentations can be helpful at times, as can a receptionist and physical business address. Both of which only add to your credibility. That's why so many sales reps across various industries are opting for a virtual office!
Digital Marketers: SEO and data are your best friend, and you spend hours poring over the information. All you need is an internet connection and a laptop to do what you do best. But if you want to attract companies at the top of their field, you need legitimacy. That's something a virtual office can provide. Virtual offices offer reception service, mail sorting, a physical business address, and meeting rooms for all those PowerPoint presentations with your latest client.
Software Engineers: Some of the most creative minds choose this field as their area of expertise. But creativity can't be clocked in from 9 to 5. Most software engineers work odd hours, sometimes only once the sun sets. Remote work fits your mojo and workflow, allowing you to be your most productive. A virtual office gives you that freedom and flexibility, so you can work when and where you work best, yet still have a professional physical presence for clients when you need it.
Real Estate Agents: Real estate agents spend their days showing homes. In this hot real estate market, they are rarely in the office. Why spend money on a physical space that you will barely use. A virtual office is the perfect solution. It acts as the physical hub for all your business needs, so you never miss a beat. All your calls are answered, your mail sorted, and much more.   
Non-Profit Organizations: Nonprofit organizations are founded on the ideology of doing for others. They are typically funded through donations, contributions, and the communities they serve. This is one sector that cannot afford to spend extra money on things that are not 100% necessary for their business to run efficiently. Virtual offices are the perfect blend of essential services that are needed, such as meeting rooms and reception services, offered at a lower cost than a physical address could offer.
Drop Ship Retailers: Dropship retail businesses were created for virtual offices, as their services go hand in hand. A drop ship E-Commerce business can benefit from a physical address and a dedicated phone line with a live receptionist for their customer service division. The one thing a drop-ship retailer doesn't require to flourish is the added expense of physical office space. A virtual office is the perfect solution to reduce overhead costs and still have the appearance of an up-and-running retail space.   
At Opus Virtual Office, we offer a full suite of virtual services for $99 a month. This includes receptionist service, inbound and outbound call transfer, mail sorting, and meeting rooms. We handle all the busy work, so you can be wherever your business takes you!