Austin, the capital of Texas, has the 4th largest population of the cities in Texas. For the last decade, Austin's population has steadily increased, at a rate that has outpaced many other large cities in the U.S. The tech sector and new business ventures are the driving force behind Austin's population boom. A second in technology to Silicon Valley, many refer to Austin as Silicon Hill, with leading tech companies such as Oracle, eBay, Hewlett Packard, Apple, and many others having main offices in Austin.
If you're considering expanding your business, consider Austin for your next location. Texas is home to over 17,600 tech firms that employ over 203,700 workers. The Austin tech sector is rich in innovation and creativity. The cradle for companies to scale ideas into Fortune 500 companies, the Austin tech scene is responsible for inventing semiconductors for billion-dollar dating apps and more, including Dell Technologies, which Micheal Dell started in his University of Texas dorm room. Texas is brimming with skilled tech savvy, innovative talent and was ranked the number one state for tech worker migration, by Linkedin.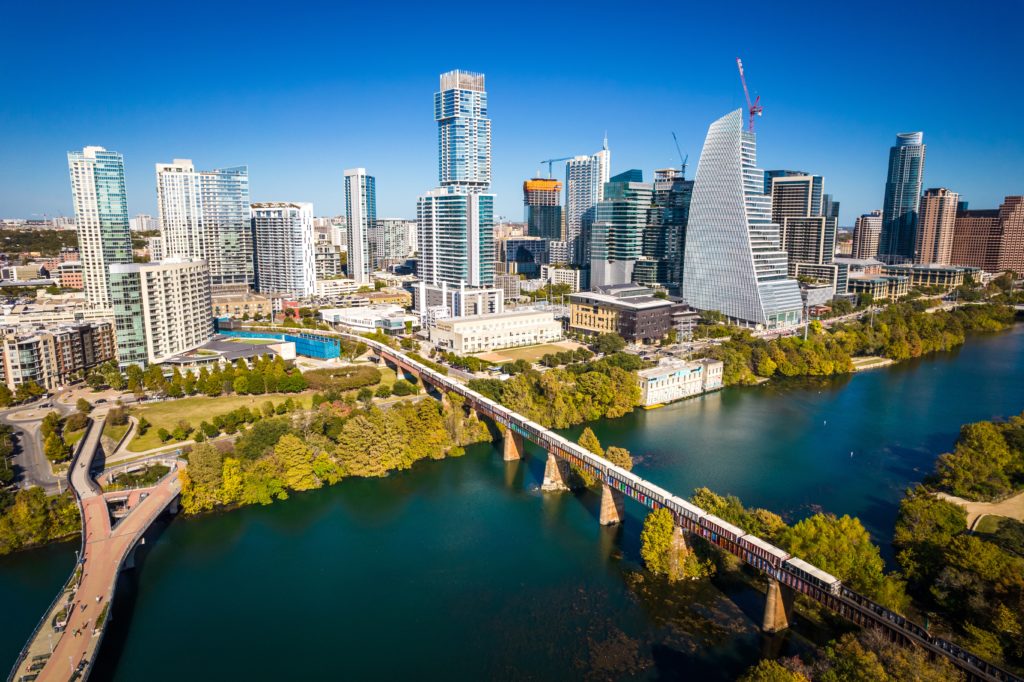 Why Austin is attracting new residents:
The Housing Market: Austin has not been immune to the rise in residential home prices, yet it's still more affordable to rent or buy a home in Austin than to buy or rent in San Fransisco, L.A., or Washington D.C. In a list of the top 20 most expensive cities, Austin doesn't even make the cut. Another bonus of the Austin housing market? Austin offers a variety of options including the ability to rent a furnished apartment. Whether you're looking for a 2 bedroom condo or a studio, you'll find many choices within the city. A furnished apartment reduces the stress of moving, and many units come with upgrades such as commercial kitchens and smart appliances.
Recreation: if you enjoy spending your time outdoors, then Austin should be first on your list. There are many outdoor activities to enjoy. For one, the Colorado River runs centrally through the city and pours into seven Austin reservoirs. If you love water sports and recreation, Austin offers rowing, boating, kayaking, and popular swimming holes, which are great places to cool off when the weather gets hot. Austin is also home to four water parks that offer a variety of amenities such as slides, lazy rivers, and swimming pools. Other outdoor activities include hiking and biking trails. With several state parks, there are many different trails to explore.
Education: U.T., the University of Texas at Austin is an Ivy League Public School, offering students an Ivy League education at zero cost. U.T. has over 50,000 students enrolled yearly and offers over 170 undergraduate majors and 100 graduate disciplines. The most popular fields are architecture, engineering, business, communications, and education.
Affordability: Even though Texas has regulations for local business, it is still not as regulated as its big city counterparts, such as California or New York. In fact, many California businesses have moved to Texas due to the lower cost of real estate and fewer regulations. One popular draw is their lower corporate tax rate compared to N.Y. and Ca.
Transportation: the public transportation system in Austin makes it easy to get around the city at a relatively low cost. Austin is less than a three-hour drive from Dallas, Fort Worth, or Houston and less than a three-hour flight from California. The Austin-Bergstrom International Airport is centrally located, making travel convenient for Austin residents.
Business Networking Opportunities: Austin hosts the Annual South by Southwest Conference, in addition to other conferences for various industries, such as banking, education, and small businesses. This gives local companies unique opportunities to leverage their proximity to these events by participating in panels, promoting their businesses, and recruiting new employees.
The appeal of Austin is obvious, affordable housing, Ivy League education at no cost, and efficient transportation. This has allowed Austin to attract innovative technology-based businesses over the last few years. Add this to the low corporate tax rate compared to other cities, and it's understandable why so many companies are moving to Austin. If opening a brick-and-mortar business in Austin is not currently an option for your company, you can be part of the Austin scene with a virtual office. An Opus Virtual Office can provide your company with a prestigious business address at 1005 Congress Avenue, at the center of the Austin tech scene.
All Opus Virtual Offices offer inbound/outbound call transfer, live reception, and meeting rooms. With thirty Texas locations, you can choose the city that best serves your purpose. As an Austin Virtual Office client, you'll have a virtual office in a premium location. That means you'll have access to our full suite of virtual services. Join Opus Virtual Offices and expand your business with an Austin virtual office today!