Small business owners are driven and passionate about their work. After all, getting a new venture off the ground takes a tremendous amount of discipline. Sometimes, the amount of self-imposed isolation and late-night hours needed to start a successful business can lead to burnout. Burnout is a state of emotional, physical, and mental exhaustion that results from prolonged stress. It is not a state of zen!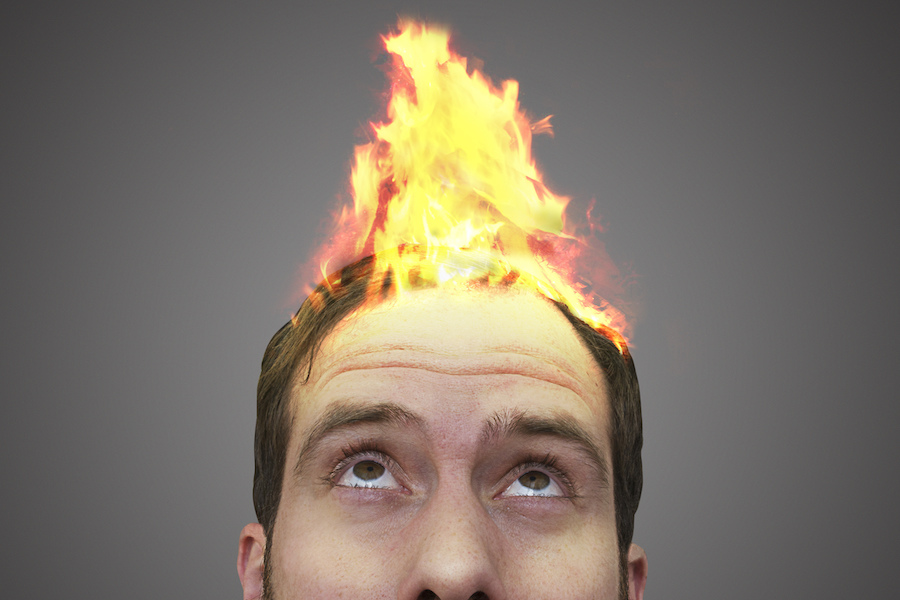 If you're an entrepreneur feeling the growing pains of starting your own business, here are 5 ways small business owners can avoid burnout with a side of humor. After all, they say, laughter is the best medicine. So, without further ado, here's the entrepreneur's guide to finding the funny side of burnout.
First off, let's start with the obvious: caffeine. There's nothing quite like that feeling of a fresh cup of coffee in the morning to get your day started. But when you're burning the candle at both ends, caffeine can quickly become your best friend or your worst enemy. Before you know it, you're mainlining espressos to keep up, and your body is running on fumes. Yet, you still can't resist that sweet, sweet java. It's like a warm hug for your soul, even if your stomach is churning and your hands are shaking.
Second is that knawing feeling of overwhelm in the pit of your stomach. As a new business owner, you're likely the only one around. You manage your own finances, do your own marketing, act as a customer service rep, and you're the one to deliver the goods. Something is always pulling at you, demanding your full attention. That feeling of wishing you could clone yourself to get more done in a single day is a sign of being overwhelmed by your responsibilities. If you take a step back to see the bigger picture, hopefully, you can see the humor in the situation and know that you've become a master juggler who deserves center-ring at the circus!
Let's not forget exhaustion. Whether it's due to stress, excitement, or just too much caffeine, entrepreneurs are notorious for sacrificing a much-needed solid night's rest to push their business forward. But hey, sleep is overrated anyway, or so they say! In actuality, sleep is essential. Yet when you're neck deep in burnout, sometimes the only thing you can do is laugh or cry. So find the humor in walking around like a zombie, stumbling around with your eyes half closed and the brain fog accompanying exhaustion.
Then there's the constant hustle. As an entrepreneur trying to bootstrap your new venture, you may find yourself in a continual state of motion. Always searching and looking for more. You may begin to feel like you're a hamster on a wheel, running as fast as you can but not achieving your goals. You need to stop and slow down, but then again, that hamster wheel can serve double duty as your daily cardio.
Lastly, there's the impending fear of failure. When you're all in on your idea, the stakes are high. You've poured your heart and soul into your business, and the idea that it may all come crashing down is petrifying. Sometimes the only way through is to look at the situation with a humourous lens. This will help you put everything into perspective.
Realize this feeling of overwhelm is only a season, so you can allow yourself to take a step back and breathe. While having a sense of humor can make the process easier, here are 5 practical tips you can implement to make the life of a budding entrepreneur a bit easier to master:
Set realistic expectations: Rome wasn't built in a day, and neither are successful businesses. Setting realistic expectations can help manage overwhelm and help you sidestep burnout. Try to break large tasks down into smaller, more manageable ones.
Prioritize self-care: when you are laser-focused on your professional goals, it's easy to let self-care fall by the wayside. This is the wrong move. Take the time to do something you enjoy that you find relaxing. Taking the time to show yourself some love can alleviate stress and allow you to come back stronger.
Delegate: Instead of doing everything yourself, learn to hand off smaller tasks to others. A virtual office is a great way to do this as a new business owner or startup. When you have a virtual office, they handle many daily tasks that lead to overwhelm. Virtual office companies, such as Opus Virtual Offices, offer features such as live call answer, parcel post receiving, meeting rooms upon demand, and most importantly, a prestigious business address, so your new business has an air of authenticity.
Take time off: taking regularly scheduled breaks throughout the process is essential to avoid burnout. Take a long weekend, a siesta, or that vacation you've always dreamed of. This will allow you to come back stronger than before, with a renewed sense of energy.
Seek support: burnout can be isolating. There's no need to go it alone. Seek support from friends, family, or a therapist. Join associations or other small business communities where you can talk to people walking the same walk as you. After all, they know best what you're going through and may be able to offer advice that has worked for them in the past.
Opus Virtual Offices
Life as an entrepreneur can be a lonely endeavor, but it doesn't have to be. Consider a virtual office if you are overwhelmed by the responsibilities of starting a new business. Not only does a virtual office save you money, but it's a great alternative to a physical office. They offer services that will alleviate the stress of keeping a business running. Opus VO has over 650 locations nationwide, making it the clear choice. Wishing you the best of luck in your new endeavor!